Art is very personal. The pieces you choose must first of all "speak to you." And, when artfully arranged, your artwork can be one of the most effective and beautiful ways of accessorizing your home. Not only is artwork a form of self-expression that hopefully brings you joy every time you look at it, it's also an ideal way to bring color into the space and enhance the room's focal point and other attractive structural and design elements.
Where and how you hang your art is more important than the type of art you own. The placement of art pieces has a dramatic impact on the look of the space that can make even moderately priced pieces look elegant and stunning. 
In order for artwork to really pop, it will become the focal point or its colors and style will complement either the rug, furnishings or an architectural feature in the room. Art can either be hung on its own if it's the proper scale, or you can group together smaller pieces. Either way, arrange your artwork to harmonize with other elements in the room.
Save Your Walls
Use tape to map out the shape you're trying to mimic on the wall before hanging your artwork. Squint your eyes and look at the tape to see if it flows along the same line as the surrounding architecture or furniture, such as a rounded alcove, ascending staircase or a curved headboard.
Trace out the shapes of the art you will hang on stiff paper or cardboard. Arrange these on the tape line you've already put on the wall.
Step back a few feet and check the effect of your temporary arrangement. If it harmonizes with its surroundings and has a pleasing effect to the eye, mark where the actual artwork will hang, remove the tape and mount your art with proper hooks and wire.
Hanging Individual Pieces
For a piece of art to work on its own, it must be the proper size --i.e. large enough -- and the right scale for the space. Dramatically large artwork is very popular today and it certainly does make an impact on the space becoming in itself the focal point of the room. For most artwork, a general rule of thumb is that a piece is roughly two-thirds the width of the furniture or architectural feature it hangs above or is complementing. Keeping shape consistent is also a good idea, such as a horizontally hung rectangular piece over a sofa or a vertically hung piece over a narrow-width fireplace mantel.
Here are a few guidelines for placement of artwork:
All artwork should be hung roughly at eye level of somone 5'6" tall -- on average, this means the middle of the piece should be about five feet above the ground. Generally, aim for between 57" and 64" from the floor.
Art can be placed a little higher for rooms with especially high ceilings but you can also layer art for high-ceiling rooms keeping the bottom pieces eye level with other complementary pieces of art or sculpture above to balance the artwork display.
When hanging art above a sofa or fireplace, try to leave at least 8 inches between the two items. For tabletops, leave about 10 inches minimum.
Don't get caught up in rules, arrange your treasured art in any way that you find pleasing and allows you to enjoy it to the utmost.
Group Arrangements
Small art pieces look best in groupings. The group can be arranged into square, vertical or horizontal row hangings to form a unit similar in shape to one larger piece of art. The unit formed increases the individual painting's visual weight and allows each to shine. When grouping your art; keep the texture, color and style of each piece consistent, including the frames, to form a cohesive, impactful art display.
Symmetrical and Asymmetrical Arrangements
If your artwork comprises pieces that are completely different sizes and shapes, you will want to consider their placement more carefully. Symmetrical arrangements involve laying out the artwork in a mirror-like fashion. When done properly, symmetrical arrangements can be cut in half from any direction and the pattern would look identical on both sides.
An asymmetrical arrangement does not folow a consistent pattern. The pieces do not have to be the same shape or size. However, it is still important to consider balance and scale. Although the pattern does not have to look identical when you cut the arrangement in half, both sides should still carry roughly the same amount of visual weight.
Both types of arrangements are equally effective if applied correctly. Symmetrical arrangements are generally used for more traditional rooms and produce a more formal look.
Asymetrical arrangements are more challenging because there's no formula to approach them. Finding the right pattern is often a result of trial and error. For this reason, it's always best to have your layout planned beofre you begin drilling holes into your walls. The most effective method is to make paper or cardboard cut outs of your different pieces of artwork. You can then tape these cut outs to the wall and rearrange them until you find a pattern that's suitable.
Some examples of artful arrangements, from elegant to bold and dramatic:
This abstract artwork appears to mimic the shape, color and scale of the sofa in this contemporary family room. It also breaks rules -- displayed with very little space between the top of the sofa and bottom of painting but it works well for the space.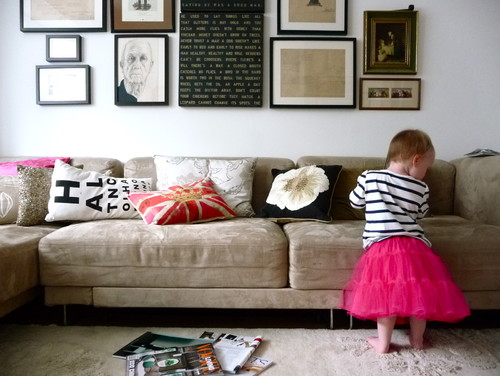 Bright and bold abstracts spice up this neutral  contemporary dining room.